Welcome!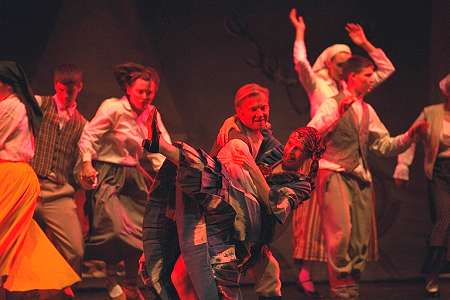 Lolita's Miracle Bird (Brinumputns), 2002
The New York Latvian Concert Choir, Ņujorkas latviešu koris, is a non-professional choral group based in Yonkers, New York, drawing its membership from the tri-state area. While our members are primarily of Baltic background, the calling of the Latvian musical spirit has beckoned others to join us as well!
Founded in 1975, our choir has been devoted to performing masterpieces of Latvian choral, operatic and symphonic literature, and traditional folk music. Our choir also regularly commissions and premiers new works by Latvian composers.
Our choir first traveled to Latvia during the Soviet occupation. Since Baltic independence we have returned to Latvia numerous times to perform and to record.
The 2013-2014 season marks our 38th. Details of this season are available on our Schedule page.
We also regularly participate in the Latvian "Dziesmu Svētki", or Song Festivals, held in Latvia and abroad.
The New York Latvian Concert Choir, Inc. is a non-profit organization conducting a yearly workshop and performance program emphasizing Latvian cultural, linguistic, and ethnic heritage. Our activities are supported in part by the New York State Council on the Arts. For more information on our concert schedule, recordings, or to join, Email us at: info@nylatvianconcertchoir.org

NEW YORK LATVIAN CONCERT CHOIR, Inc.
22 Minturn Street
Hastings on Hudson, NY 10706
---
At our 2014 Memorial Day weekend concert with Balsis and guest conductor Ints Teterovskis, Atbalss and other friends from Canada. Thank you to all our listeners and supporters!



Posted: Tue, 27 May 2014
---
Reminder: Rehearsal on the 13th is at 9:00AM at D.V. Nams!

Posted: Sat, 12 Apr 2014
---
Our Spring Concert in Elka Park, NY nometne will be May 25th at 3:30. Don't miss this opportunity to hear beautiful Latvian music and W.A. Motzart's Coronation Mass. $25.00. Our guest conductor will be Ints Teterovskis with his Balsis choir. We are also awaiting Balsis choir from Montreal. Join us after the concert for dinner and a social evening.

Posted: Fri, 11 Apr 2014
---
Apsveicam mūsu mīļo basu Andri Padegu viņa 85. g. Jubilejā 27. martā! Daudz baltu dieniņu, Andri!

Posted: Wed, 26 Mar 2014
---
Aicināsim pieteikties jaunus un bijušos dziedātājus vēl līdz janvāra beigām! Pietekties var caur FB, Twitter jeb rakstit epastu Laurai, Aijai jeb Andrejam.

Aija Daina Pelse - aijap@yahoo.com
Andrejs Jansons - jansonsa@gmail.com
Laura Zamurs - klzamurs@aol.com

Esam paredzējuši dziedāt sekojošos datumos:
*Pavasara kora nometne (23.-26. maijam) un koncerts 25. maijā (viesu diriģents-Ints Teterovskis un Balsis)
*Priedaines 50.g. Jubilejas koncerts-1. jūnijā
*Dziesmu svētkos Hamiltonā-3.- 6. jūlijam



Posted: Thu, 23 Jan 2014
---
Atgādinajums par nākamajiem diviem kora mēģinājumiem! Lūdzu, pievērstiet uzmanību dienai...

Sestdien, 25. janvārī, plkst. 3 os. Jonkeros
Sestdien, 1. februārī, plkst. 3 os. Jonkeros

Paldies un tiekamies jau šo sestdien ;)

p.s. neaizmirstiet paņemt līdz Coronation Mass un Hamiltonas Dziesmu svētku grāmatu.



Posted: Thu, 23 Jan 2014
---

Posted: Fri, 13 Dec 2013