Welcome!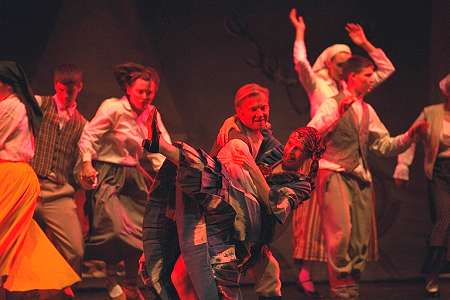 Lolita's Miracle Bird (Brinumputns), 2002
The New York Latvian Concert Choir, Ņujorkas latviešu koris, is a non-professional choral group based in Yonkers, New York, drawing its membership from the tri-state area. While our members are primarily of Baltic background, the calling of the Latvian musical spirit has beckoned others to join us as well!
Founded in 1975, our choir has been devoted to performing masterpieces of Latvian choral, operatic and symphonic literature, and traditional folk music. Our choir also regularly commissions and premiers new works by Latvian composers.
Our choir first traveled to Latvia during the Soviet occupation. Since Baltic independence we have returned to Latvia numerous times to perform and to record.
The 2013-2014 season marks our 38th. Details of this season are available on our Schedule page.
We also regularly participate in the Latvian "Dziesmu Svētki", or Song Festivals, held in Latvia and abroad.
The New York Latvian Concert Choir, Inc. is a non-profit organization conducting a yearly workshop and performance program emphasizing Latvian cultural, linguistic, and ethnic heritage. Our activities are supported in part by the New York State Council on the Arts. For more information on our concert schedule, recordings, or to join, Email us at: info@nylatvianconcertchoir.org

NEW YORK LATVIAN CONCERT CHOIR, Inc.
22 Minturn Street
Hastings on Hudson, NY 10706
---
Lasi šīs dienas laikrakstā DIENA - Ņujorkā pirmatskaņos Kārļa Lāča Ziemassvētku kantāti.



Ņujorkā pirmatskaņos Kārļa Lāča Ziemassvētku kantāti
www.diena.lv
8. decembrī Ņujorkā pirmatskaņojums gaidāms Kārļa Lāča Ziemassvētku kantātei. To un citus latviešu komponistu darbus atskaņos Andreja Jansona vadītais Ņujorkas latviešu koris un Bronksas kamerorķestris. "Kārli uzrunāju vasarā un viņš piekrita. Viņa kantāte ir visai sarežģīts darbs mums

Posted: Fri, 06 Dec 2013
---
Event! ADVENTA KONCERTS
Sun, 08 Dec 2013 10:00
Jonkeru dievnamā, 254 Valentine Lane, Yonkers, NY
---
Ņujorkas Latviešu koris ielūdz uz
ADVENTA KONCERTU
Svētdien, 2013. gada 8. decembrī, plkst. 10:00 no rīta
Kārlis Lācis "ZIEMASSVĒTKU KANTĀTE" (Pirmatskaņojums)
Selga Mence "ZIEMASSVĒTKU ZVANU DZIESMAS"
Jānis Lūsēns "ZVAIGŽŅU BĒRNS"
Piedalās: Laila Liepiņa Southard - soprāns
Sarma Dindzāne -Van Sant, Laura Padega Zamura - alti
Ņujorkas latviešu koris un Bronksas kamerorķestris,
Andrejs Jansons, Laura Padega Zamura- diriģenti
Visi laipni aicināti lejas zālē pēc koncerta uz Adventa azaidu
Ieeja $25.- par koncertu un mielastu
Bērniem līdz 13.g.v. ieeja brīva
Svētku tirdziņā varēsiet iegādāties skaistas dāvanas ŅLK tvartus, Ziemeļnovada dāmu komitejas grāmatgalda veltes. Būs arī izvēle no citiem tirgotājiem. Maize,pīrāgi, našķi!
www.nylatvianconcertchoir.org
aijap@yahoo.com
Tel: 516-433-4137
New York Latvian Concert Choir, Inc.
Atbalsta NYSCA
---
Izmaiņas iepriekš ziņotajā:
Mūsu pianists Djordje Nesic būs pie mums 27. oktobrī, plkst. 11:15, Jonkeros, nevis 3. novembrī, kā iepriekš ziņots. Svarīgi, lai visi dziedātāji ierastos, jo tā ir vienīgā reize, kad varēsim kantātes izdziedāt ar pavadījumu pirms 16. novembra koncerta.

Posted: Fri, 18 Oct 2013
---
Choristers! Update on our rehearsal pianist--November 3rd still as planned, but November 24th (not 20th) MOVED to the following rehearsal, December 1st.

Posted: Mon, 14 Oct 2013
---
Choristers, mark the November 3rd and 20th rehearsals, we've engaged a pianist for those concert-preparation sessions! If you can't make all our rehearsals, those--and our pre-performance general rehearsals--are the most important!

Posted: Mon, 30 Sep 2013
---
Reminder to our members, rehearsal starts early next Sunday, at 9:00am in Yonkers.

Posted: Wed, 11 Sep 2013
---
....aiziet jauna sezona!



Posted: Sun, 08 Sep 2013