Advent Concert! Sunday, December 10th, 11:00
Our annual Advent concert features a collection of three Christmas Cantatas.
Tickets (at the door) are $25 and include our after-concert hors d'oeuvre banquet. Our Christmas flea market will also be open, featuring handicrafts, home-baked holiday treats, and — often — Latvian bread from Latvia. Children enter for free. We don't currently accept credit cards for the concert.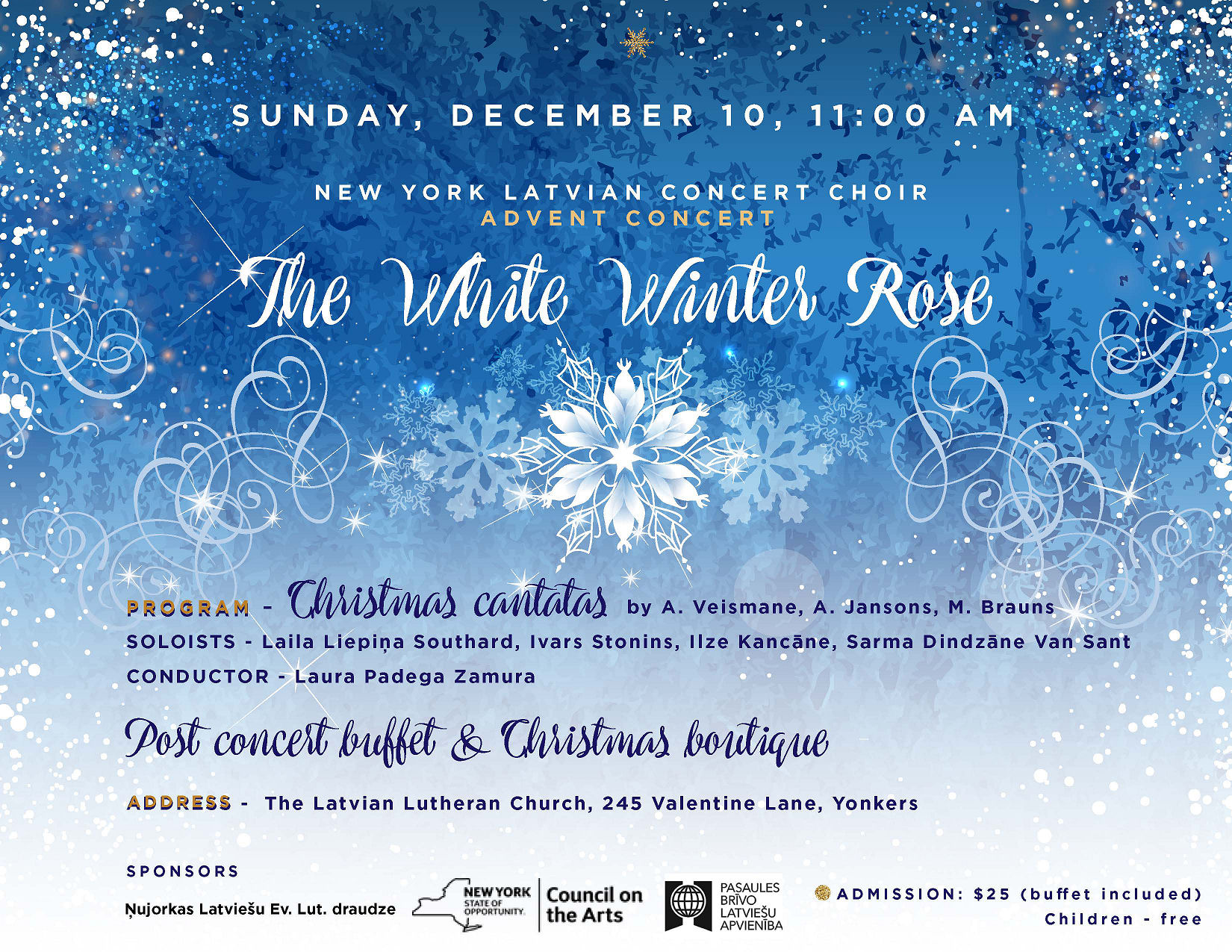 Come join us for our concert! Sunday, December 10th at 11:00 AM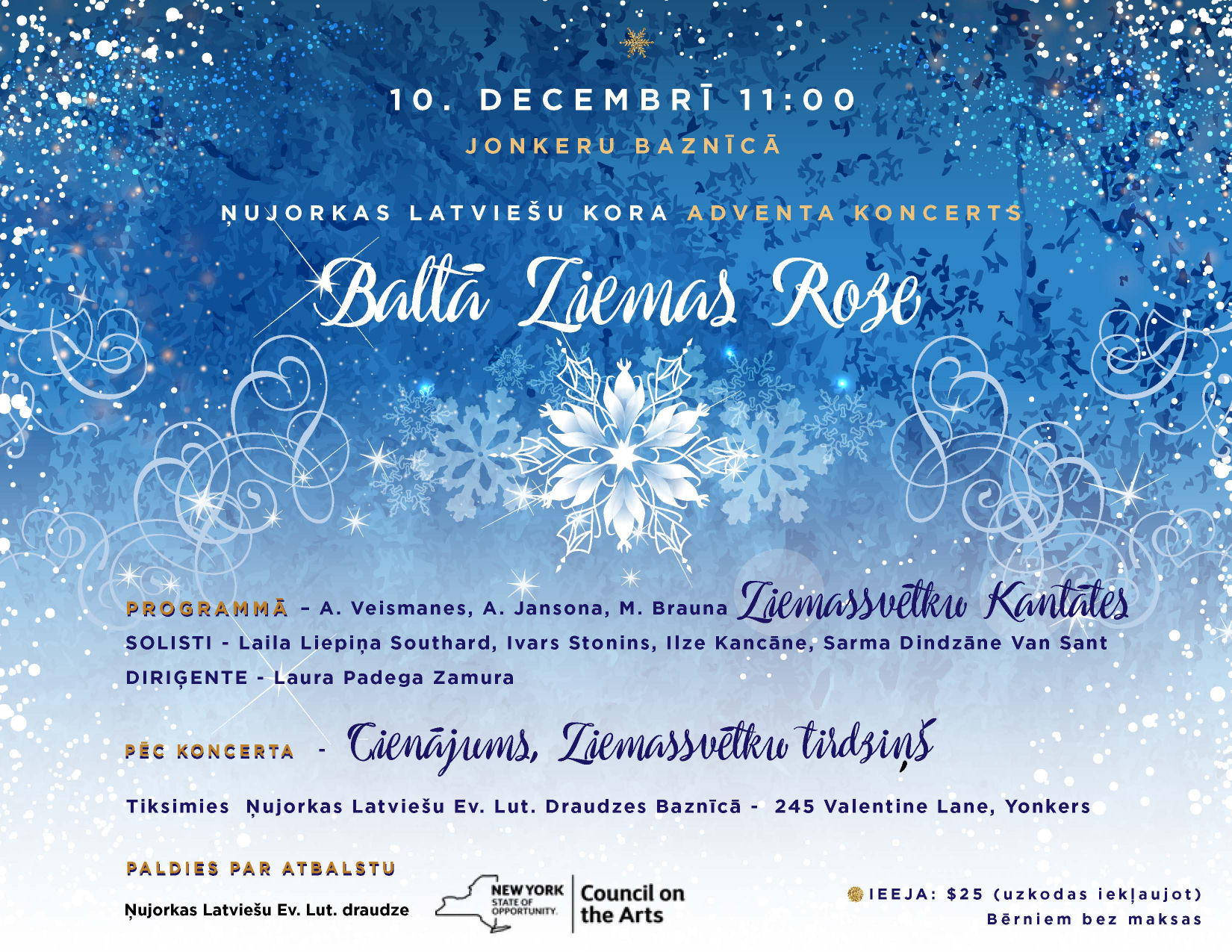 Laipni lūdzam! Koncerts notiek svētdien, 10. decembrī, plkst. 11:00
Directions
The Latvian Lutheran Church in Yonkers is located just north of Van Cortlandt Park and the Bronx border, one block west of South Broadway. The church entrance is on Leighton Avenue.
Driving
Please note, Leighton Avenue runs one-way north. For parking spots, when entering an address for driving directions, we suggest using "3 Leighton Avenue, Yonkers NY 10705." That address will take you up Leighton Avenue. It is a long way around back to the church once you make a left from Broadway or Leighton onto Valentine Lane. The church has a parking lot off Leighton but unless you plan to be the last to leave, you should expect to be blocked in and have to wait for people to move their cars for you to leave. Signs allow alternate parking on only one side of Leighton, but in practice, you can park on both sides of the street for church services and events.
Mass transit
If you do take public transportation, please check for weekend service alerts in the event you need to make alternate plans.
Subway/bus: Take the #1 7th Avenue IRT train to the end of the line at Cortlandt Park in the Bronx, transfer to the Bx9 bus north to the last stop, 261st street, about a ten minute walk up Broadway to the church. Make a left onto Berkeley Avenue then right on Leighton Avenue for a shorter walk instead of going all the way up to Valentine Lane. You can also take the Westchester Bee-Line bus, MetroCards accepted: any #1, #2, or #3 bus. Local bus service runs along South Broadway and stops about half a block south of Valentine Lane. #1X express service stops at Radford Street, two short blocks north of Valentine Lane.
Express bus: The BXM3 bus runs between midtown Manhattan and Yonkers. Unfortunately, Sunday service to Yonkers starts too late to take to the concert but is available for your trip home. It leaves central Yonkers for Manhattan hourly on the half hour and stops at Radford Street ten minutes — or less — later. It's somewhat under an hour ride into to midtown.
Metro North Rail: Ludlow Station on Metro North is closest, about a 20 minute walk (one mile) south and east. Timing is poor coming from the city: north-bound trains arrive at 9:51 AM and 10:51 AM, while a south-bound train arrives at 10:35 AM. There's no taxi stand at the station. If not walking, you'll need to arrange to get picked up.
Alternately, you can use the Yonkers Station, one stop north from Ludlow. Taxi service is available — about a ten minute ride to the church. North-bound trains arrive a few minutes later, south-bound a few earlier, than Ludlow.[a] You can also take the bus from the Yonkers station. One of the #1 bus routes stops on Riverdale Avenue at Hudson Street — in front of the Shoprite, several blocks up from and south of the station. It's about a 20 minute ride to the church.
---
| | |
| --- | --- |
| [a] | Schedule last checked 20 November, 2017, north-bound from Grand Central, south-bound from Croton-on-Hudson. |